Games and Ethics
Theoretical and Empirical Approaches to Ethical Questions in Digital Game Cultures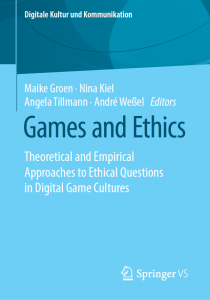 Zusammen mit Prof. Dr. Angela Tillmann, André Weßel und Maike Groen von der Technischen Hochschule Köln habe ich 2020 diesen Sammelband über die ethischen Dimensionen des digitalen Spiel(en)s herausgegeben. Das Buch ist im Springer Wissenschaftsverlag erschienen und sowohl als Softcover als auch im Ebook-Format erhältlich.
Enthalten ist darin auch ein Beitrag von mir: "Using Digital Games for Sexual Education: Design Rules, Issues, and Applications"
Herausgeber*innen: Nina Kiel, Angela Tillmann, André Weßel, Maike Groen
ISBN: 978-3-658-28175-5
Preis: 69,54€ (Softcover), 59,99€ (Ebook)
Verlag: Springer VS
Sprache: Englisch
Buchbeschreibung:
"The number of digital gamers is increasing worldwide, but public debates about digital games commonly focus on questionable game content or pro­blematic gaming behavior. This book offers a broader ethical perspective on digital game cultures, presenting theoretical and empirical work on the ethical dimensions of the development, production and distribution of digital games, as well as issues relating to responsible gaming and the pedagogical use of digital games. Questions of the communicative-cultural change in game cultures are linked with questions of media education and media ethics. With such a comprehensive approach, the volume promotes ethical discourse on digital game cultures."
---
Handbuch Gameskultur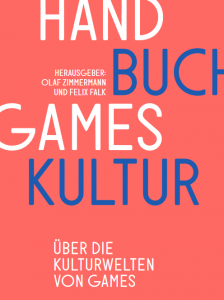 Für das vom Deutschen Kulturrat und game herausgegebene Handbuch Gameskultur habe ich einen umfangreichen Artikel über Diversität in der Spielekultur verfasst. Das Buch gibt es in einer Softcover-Version sowie kostenlos als PDF-Download.
Buchbeschreibung:
"Warum sind Games Kultur? Können Computerspiele sogar Kunst sein?
Was haben Computerspiele mit Bildender Kunst, Theater, Musik, Literatur, Film zu tun?
Sind Games immer gewalthaltig?
Darf man Erinnerungskultur spielen?
Was haben Spiele mit Sport zu tun?
Und macht die Gamesbranche wirklich so viel Umsatz wie Hollywood?
Das Handbuch Gameskultur gibt Antworten und Orientierung in der vielfältigen Welt der Computerspiele."
Herausgeber: Olaf Zimmermann, Felix Falk
ISBN: 978-3-947308-22-4
Preis: 19,80€
Sprache: Deutsch